Fertilization and Shading

Fertilization creates a healthy lake and pond ecosystem by boosting the food chain. It provides an increase in phytoplankton and zoo plankton (microscopic plants and animals) which creates a green coloration of the water. The benefits of fertilization are an increase in fish growth and reproduction and the prevention of sunlight from penetrating to the bottom which can result in aquatic weed and algae growth.




There is a proper way to fertilize a lake or pond. The water temperature must be at least 60 degrees Fahrenheit or a fertilization bloom can not be established and maintained. Once a pond or lake is fertilized it should be maintained the entire season or problems are likely to occur with aquatic weeds and algae.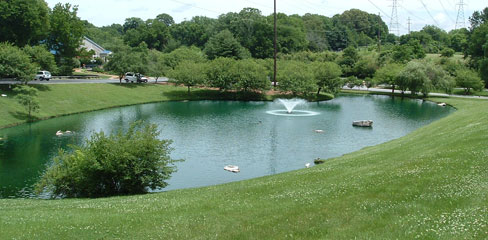 Shading with organic dyes can greatly control the sunlight that penetrates the water column which can inhibit photosynthesis from occurring in lakes and ponds. This method can help control aquatic weeds in depths of water over 3 feet. A proper shading program can greatly reduce aquatic weeds and algae and provide beautiful aesthetics in lakes and ponds.
Small Waters specializes in the proper fertilization and shading of lakes and ponds. Contact Small Waters for an onsite evaluation about our fertilization and shading maintenance program.